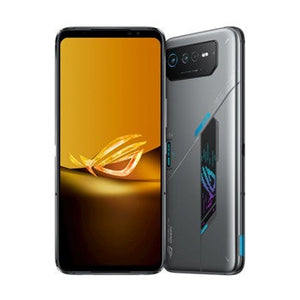 Asus ROG Phone 6D ULTIMATE AI2203 Dual Sim 16GB RAM 512GB 5G (Space Gray)
FOR THOSE WHO DARE
Say hello to the ROG Phone 6D, which features the unparalleled performance of the latest MediaTek Dimensity 9000+ processor. Its super-efficient GameCool 6 thermal system raise your game into a different league, and the 165 Hz display will revolutionize your visual experience. The AirTrigger 6 system and the Armoury Crate app put you in total control, and the monster 6000 mAh1 battery lets you play for longer. Are you ready for awesome? Say yes to the ROG Phone 6D, and prepare to change your gaming experience forever!

AWESOME POWER
Are you ready for the awesome MediaTek Dimensity 9000+? Its unparalleled performance is in a class of its own, with a clock speed boosted to a mind-blowing 3.2 GHz2, delivering up to 5% better CPU performance2 and 10% faster GPU performance2 than the previous Dimensity 9000.
The ROG Phone 6D also packs LPDDR5X RAM with 17% more memory bandwidth2 and up to 15% less latency2. Our world-famous Armoury Crate performance manager unlocks even more performance and tuning controls, giving the ROG Phone 6D complete mastery of this amazing CPU's power to vanquish any task!

AWESOME THERMALS
The advanced GameCool 6 cooling system in the ROG Phone 6D pushes what's possible to the limit. GameCool 6 incorporates three different approaches to cooling to improve stability for demanding games.

Firstly, the Boron Nitride (BN) thermal compound on one side of the CPU reduces thermal throttling during short gaming sessions. Secondly, the enlarged vapor chamber and graphite sheets dissipate heat from the other side of the CPU more efficiently during mid-length gaming sessions. And finally, for long-term stability, the AeroActive Cooler 6 incorporates an AI-powered active cooling system, using a Peltier cooling element that provides additional surface cooling with a fan positioned exactly over the location of the system-on-a-chip (SoC).

AEROACTIVE COOLER 6
The clip-on AeroActive Cooler 6 has an AI-powered thermoelectric cooler, and a fan that delivers increased cooling airflow directly to hotspots on the back cover of the ROG Phone 6D. The result is that it can lower the surface temperature near the CPU by up to a stunning 25°C4. The AeroActive Cooler 6 also adds four extra physical buttons to allow a genuine console-like control experience.

ALL-NEW 360° CPU COOLING TECHNOLOGY
For the first 15 minutes of gaming, the most important task is to ensure that the heat from the CPU is conducted to all thermal components for dissipation.

The 3,300 milligrams of BN thermal compound transfers heat from the side of the CPU opposite the vapor chamber, dissipating the heat from chip much more efficiently, and ensuring maximum performance of the CPU and GPU for a stable gaming framerate.

AWESOME STYLE
Crafted with the spirit of adventure, the ROG Phone 6D reaches beyond its cyberpunk roots to explore the wider cosmos. The special Space Gray matte finish gives it a futuristic look. With its fusion of geometric simplicity and cutting-edge technology, this next-gen gaming phone is your high-tech companion for your journey through space and time.

AWESOME RGB
Unleash your inner gamer with the futuristic Aura RGB lighting on the ROG Phone 6D. The famous ROG Fearless Eye dot-matrix logo on the rear can be given a fantastic color-gradient appearance using two different colors simultaneously. You can also personalize the lighting with a huge choice of colors and several preset mood-lighting schemes.

AWESOME VISION
For supreme visuals, the ROG Phone 6D has a 6.78-inch AMOLED display with unbeatable display quality and amazingly low latency. Whether it is for pin-sharp gaming or HDR video playback, the ROG Phone 6D delivers! To achieve low-latency gaming and ultra-responsive input with less chance of accidental touches, the ROG Phone 6D now boasts a 165 Hz refresh rate and a 720 Hz touch-sampling rate5 for a super-smooth, seamless gaming experience.

SUPERB VISUAL
As well as world-beating color accuracy, the screen on the ROG Phone 6D is protected by ultra-tough Corning® Gorilla® Glass Victus™, and your eyes are protected by the Eye Care Display technology. However you look at it, ROG Phone 6D is built to win!

AWESOME AIRTRIGGER
To give you even more advanced control possibilities, the AirTrigger 6 has been well upgraded. The ultrasonic sensors fully support various gestures, such as Dual Action, Press and Lift, and Gyroscope Aiming. The uniquely designed AirTrigger 6 gives you a control experience that surpasses console-level gaming!

GYROSCOPE AIMING
On the ROG Phone 6D, you can use the gyroscope to control the angle of view. Just press and hold the ultrasonic button first, and then you can control the viewing area by moving or tilting the phone.

This feature can give you immediate assistance for MOBA games and shooter games. You can find your enemy or explore the environment easily by simply turning around your phone.

X-HAPTIC
For powerful haptic feedback, the ROG Phone 6D has a high-end X-axis linear motor that brings you the most immersive gaming experience ever.

KUNAI 3 GAMEPAD
If you're looking for a true console-like gaming experience, the ROG Kunai 3 Gamepad turns the ROG Phone 6D into a handheld console, for the most fun you can have with a gaming phone.

AWESOME HYPERENGINE
MediaTek HyperEngine 5.0 adjusts many aspects of the smartphone to ensure gameplay smoothness, optimal power efficiency and controlled heat output. AI-variable Rate Shading technology dynamically reduces the detail in less important scenes giving the GPU more freedom to push more FPS, or for longer gaming on battery.

Frame Rate Smoother technology analyses real-time sensors and applies load prediction to dynamically manage FPS to ensure gameplay smoothness and avoid jitter. The Smart Resource Optimization technology deconstructs the program into more threads to fully exploit the advantages of the Super and Ultra CPU cores in the Dimensity 9000+, reducing the effective CPU load and improving power efficiency.

AWESOME GAMING
One of the most-loved features of ROG Phone is Armoury Crate. It's been massively revamped with a cooler-looking and more futuristic interface, with a visual style that matches the PC version. You can set up and customize scenario profiles for each app, not just games, and individually tune performance settings and more.

AWESOME TWEAKING
With its convenient functions crafted for to enhance your gaming experience, ROG Phone 6D is your brilliant partner for every victory.

GAME GENIE
Game Genie, one of the most advanced gaming enhancements features available, gets a cool User Interface! We've made it look more like the HUD on a spacecraft to match the sci-fi and futuristic style on ROG Phone 6D. Enhance your ROG Phone 6D gaming experience for the win!

AWESOME TRENDS
We know that gamers love to use characters and screens from their favorite games to showcase their style. We've teamed up with some of the popular game titles to create a series of animated theme packs that you can use to turn your ROG Phone 6D into a truly unique phone.

AWESOME AUDIO
The GameFX audio system on ROG Phone 6D features symmetrical dual speakers that fire forward for truly balanced stereo sound effects, and there's also a convenient 3.5 mm headphone jack. The sound has been optimized via a collaboration with audio specialist Dirac, making ROG Phone 6D a rare beast: a gaming phone with truly impressive audio quality. In addition to the premium sound quality, GameFX lets you individually fine-tune the EQ bands for different scenarios effects, such as game, music, or cinema, so you can enjoy the crystal-clear sound effects and powerful aural soundscapes that no other phone can match.

AWESOME CAMERA
The rear triple-camera system on ROG Phone 6D will add pro-grade quality to all your photos, whatever the setting. It features a flagship Sony® IMX766 50 MP main wide-angle camera with improved image quality and HDR processing, an ultrawide 13 MP second camera, and a macro camera. Enhanced software features include HDR10+ video mode to make your video quality stand out. There's also a 12 MP front camera for high-quality group selfies and live-streaming videos.
Specifications
Weight and Dimensions 239 grams
239g, 173 x 77x 10.4 mm
OS Android 12
processor MediaTek Dimensity 9000+ Mobile Platform
Mali-G710
RAM & ROM 16GB / 512GB
screen 6.78″ 20.4:9 (2448 x 1080) 165Hz / 1ms Samsung AMOLED. Corning® Gorilla® Glass Victus. Delta-E < 1
rear camera Main Rear Camera: Sony® flagship IMX766 50 MP image sensor – 1/1.56" large sensor size, 1 µm pixel size. F1.9 aperture, 23.8mm equivalent focal length in 35mm film camera Second Rear Camera: 13 MP, Ultrawide-angle camera, 12.5mm equivalent focal length in 35mm film camera Third Rear Camera: 5 MP, Macro
front camera 12 MP, 27.5mm equivalent focal length in 35mm film camera
Audio Speaker: Symmetrical dual front-facing speakers with Dirac HD Sound 5-magnet stereo speaker with Cirrus Logic amplifier for louder, deeper and less distorted sound effect Audio Output: Hi-Res Audio up to 192 kHz / 24-bit for 3.5mm output AudioWizard with multiple listening profiles Microphone: Tri-microphones with ASUS Noise Reduction Technology 3.5mm Headphone Jack
video recording 8K UHD (7680 x 4320) video at 24 fps for main rear camera (Only support H.265) 4K UHD (3840 x 2160) video at 30 / 60 fps for main rear camera, at 30 fps for second rear camera 1080p FHD video recording at 30 / 60 fps 720p HD video recording at 30 / 60 fps 3-axis electronic image stabilization for rear cameras HDR10+ video recording (4K UHD video) for main 50MP and ultra-wide 13MP camera Time Lapse (4K UHD video) Slow Motion video (1080p at 240 / 120 fps; 720p at 480 fps) Take still photo while recording video
sensor In-display fingerprint sensor, face recognition, accelerometer, e-compass, gyroscope, proximity sensor, ambient-light sensor, ultrasonic sensors for AirTrigger 6 and grip press
Battery Equivalent 6000 mAh (typical) high-capacity battery, supports PD Charging
charging transformer USB power adapter (65-Watt) Output: 3.3-21V 3.25A, supports up to 65W PD 3.0 / Direct Charge adapter
NFC (regional) depends of result
MMS (regional) depends of result
WiFi Calling (regional) depends of result
5G 5G Connectivity Will vary based on local operator capabilities